2019-20 "Hebrews - Keeping Your Balance in the Day in Which We Live"
** CURRENT AND PREVIOUS LECTURES AND LESSONS can be found if you look RIGHT to the RED box and click the lesson. Or in the LECTURES AND LESSONS tab above (be sure to click into the specific Lesson.)
LOOKING FOR A NEW LESSON?? New homework lessons are nested with the previous week's lecture, i.e, Lesson 5 is found with Lecture 4.
CONTACT US: This email address is being protected from spambots. You need JavaScript enabled to view it. We would be very encouraged to hear from you!
Women of the Word is an exciting weekly Bible study that meets in the Fireside Room of Castro Valley First Baptist Church, 18550 Redwood Rd., Castro Valley, California (at the corner of Redwood Road and Seven Hills Road). We also have two satellite discussion groups, described below. All three groups welcome women of all ages and are free of charge.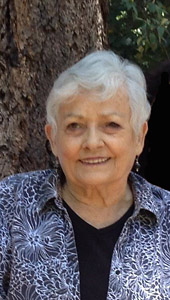 The Tuesday study meets from 9:30-11:30 a.m. and is taught by the author of the series, Liz Fosdahl. Childcare is provided for pre-schoolers upon reservation. We have a wonderful time of worship, study and fellowship, concluding with a half-hour lecture from Liz, who holds a degree in Bible from Simpson College. She has been teaching Bible for more than 39 years. Liz has a knack of making the difficult understandable and relevant, and she ties it all together in a stimulating and challenging way. Women from more than 30 churches attend this study.
An evening study runs concurrently every Thursday from 7-8:30 p.m. The week's lesson is discussed and we listen together to the recording of that Tuesday's lecture. There is no childcare for this evening study. Joann Nitao facilitates.
An off-site group meets in the Brentwood/Antioch/Oakley area on Thursdays from 4:00-5:30 p.m. at Renewed Life Church, 1435 Main Street, Oakley. Childcare can be arranged upon request. Karen Reyna (925) 408-5497 and Karen Reiss (510) 909-3169 co-lead this group. The week's lesson is discussed and recorded lecture listened together.
Studying the Word together is enjoyable and life-changing! Come see for yourself. And bring a friend!
This website includes past studies: "Ezra, Nehemiah, Esther", "Daniel, (God's Sovreignty Over History)", "Romans (From Guilt to Glory", "Acts-A Church Afire", "The Gospel of Luke", "Christ in Isaiah", "Eight Unusual Attributes of God", "Before Abraham", "The Life of David", "What on Earth is Happening?!" (a study on prophecy), "Exploring Romans/Armor of God (2008/09)", and "Jesus According to Scriptures." It also includes a portion of "The Names of God" series.